Best-in-Class AI Slide Designer
The world's most powerful AI presentation tool
See for yourself how Instant compares side-by-side with Beautiful AI:
Beautiful AI:

Don't create generic, boring slides

Other AI tools create unengaging presentations with the same stale, text-heavy layouts.

Boring slides filled with blocks of text

Limited library of templates

No support for flowcharts & infographic

Incompatible with existing tools like Google Slides

Instant AI:

Auto-generate visual, engaging slides

Our software is the first to combine the power of AI with expert-designed presentation templates.

Visual slides with diagrams & graphics

Robust library of professional-grade templates

Supports flowcharts & infographic

Use directly in Google Slides
Built for Google Slides: use the same tools with new tricks
Don't want to learn a new tool like Beautiful AI just to use AI to create your presentations? Use Instant AI to create fully-editable slides directly in Google Slides. Skip the learning curve and automagically create slides in a familiar workflow.
"I'm so glad I didn't have to learn a new presentation tool to use this. Creating presentations in Google Slides with Instant is a breeze!"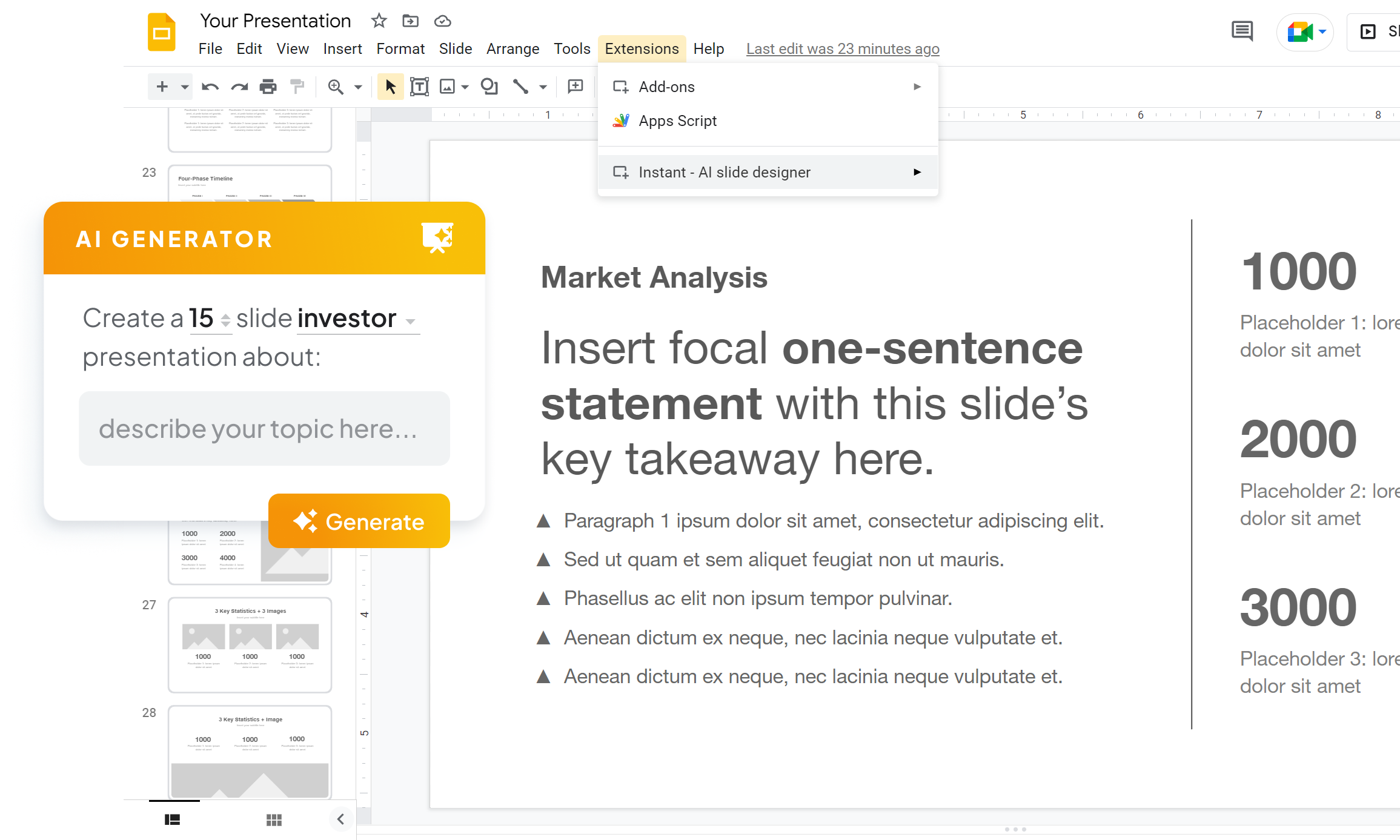 Create visual, professional-grade slides
Most AI slide design tools create boring blocks of text & bullets. Instant AI generates slides with powerful infographics & visuals, thanks to our growing library of expert-designed slide templates.
Packed with powerful features
Automagically create Google Slides presentations in just a few clicks, with Instant AI. See how →
One-Click Branding
Choose your colors & fonts in seconds so every slide is styled to match your branding.
Generate presentation outlines
Simply enter your presentation topic, length, and type, and Instant AI will auto-generate all the content.
Recommended slides templates
Let Instant AI choose the best layout for each slide, or choose one from our library of hundreds of expert-designed templates.
Automated content writing
Let Instant AI draft and populate the content for each slide, and edit to your preference.
Need more options?
Beautiful AI is one of the oldest & best-known AI slide design tools; however, the primary drawback is that it only generates simple slides with the same basic layout (bullets & an image). We recently wrote a detailed article about the best Beautiful AI alternatives in 2023. Even if you feel that Instant AI is not the right fit for you, you can check out the other AI presentation tool alternatives below, or on our recent blog post.